Starting out is hard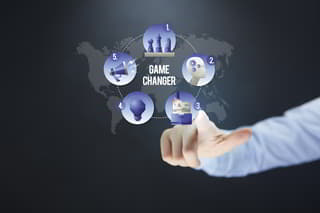 What's the hardest part of blogging when you first start…
Selecting a niche…
The main niches are:
Health
Wealth
Relationships
and Hobbies
But these are too big and wide to even contemplate ….
So you need to narrow it down…
You can research in Amazon, see the categories of products in there and see what the number of products are like along with the number of reviews…
You can go too narrow and run out of things to help your audience with…
So you need to strike a balance…
As long as you have not chosen a wrong domain name and cornered yourself then you can always add sections and broaden your niche…
So try to pick a domain name that is on topic, but not specialized…
So back to the niche selection….
How do you see whether what you are thinking of is going to make you money…
You can go out and search for the topic:
in Google
on social media
In forums
find products
look for keywords…
Does this all sound familiar..niche research…
There has got to be an easier way….
The solution
There is a program called Niche laboratory Pro…

This program makes your life a lot easier to research hundreds of niches quickly and efficiently…
You know you are told that you should know something about the niche you are going to jump into….
A lot of us have brain freeze when put on the spot…
Choose a niche…..
If you have never done this before then that is a foreign language…
Just choose something you are interested in or are knowledgeable about….
Again…brain freeze….
What if .…and a thousand ideas come and go just as quickly…
I want the most profitable one…so i must choose carefully….
With Niche Laboratory Pro this takes away the brain freeze….
You can explore to your hearts content…
The interface
After installation your will find the program under Niche Laboratory in the program list.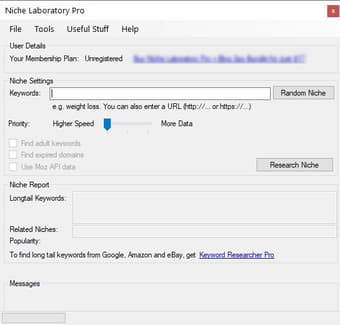 On running the program you are presented with a simple unassuming grey panel with very few areas to enter information…
Well, when researching a niche the only real things you need are the topic and how much detail….
So you enter your topic and set the detail to max…
And press the research niche button…
And if you really cannot think of anything…or want inspiration then Brett ( the developer) has created a random niche button…
Clicking on that button will fill the niche box with one of hundreds of wide niche choices….
Once running, the bottom bar shows the progress…so you can get on with other things…
A new tab will open in your browser once the program has the results for you…
What information do you get
At the top is an overview of the topic, it will show you if there is several meanings for the entered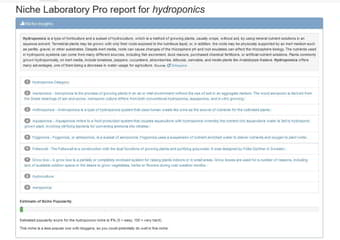 topic…
If there is it is worth reducing the ambiguity.. as Google will have the same problem with your site…
And a popularity score for the niche…..this will help you decide whether that niche is too popular…although i have not had it go over 30%
The next panel down you get loads of long tail keywords to browse.
So a way of finding lsi keywords without using a keyword research tool for your niche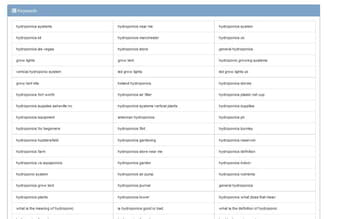 Reading through them may spark ideas for posts or topics to explore…
At the bottom of the panel are questions for the main keyword….
Next comes the keyword cloud…
Scanning your eyes over this you may stop on certain words as they seem to jump out at you…especially if you know the niche…it will validate your niche vocabulary…
The keyword rankings report takes the keywords in clusters…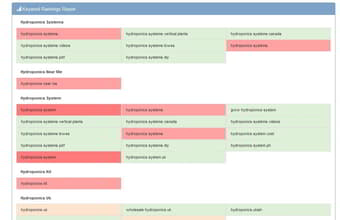 The color guide shows the competition for that keyword…green is low competition…yellow is medium…and red is high competition….
The micro niche deep dive shows you what can be a lucritive sub niche of what you have chosen…again for sparking ideas….
To achieve quick success within any niche one of the first things you need to know is how the authorities or influencers are talking to their audience…
And before that …you need to know who the influencers are…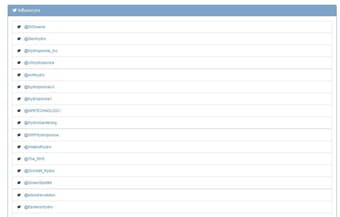 You get a list of twitter and instagram influencers to go check out and see what they are saying and how they are saying it….how large their audience are….and how much work they put into their account…
You can also touch base with them to promote your offers….
There are also websites shown, if found, their title meta tags along with their meta descriptions and any meta keywords if used…
The panel showing the website matrix will give you an idea about the SEO competition within the niche…
The hashtag panel allows you to see the easy way to get more eyes on your social posts…
Including the hashtags within your social media posts will help others find your offerings…
You then have panel of links, which will help you find more information within your niche…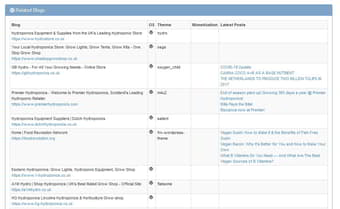 The related blogs lists some of the blogs you really should check out with their operating system and if it is using WordPress, the theme they are using….you now know how they have setup their site…why reinvent the wheel…
The expired domains can give you a legup if you check them out thoroughly…aged domains rank easier, but can carry a lot of baggage…do your checks…
You can also use the wayback machine to research what information was on the sites…it can be useful for ideas, if relevant…
The suggested blog titles can make you laugh occasionally, but they may spark some inspiration for your starting blog posts…
The niche forums can help you find your audience…and if you can find then …become a listener…
What do they need…want…or desire….
Answer their queries…
And check out the news stories to see what is happening now within your niche…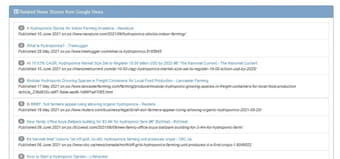 At the bottom of the report you have panels of raw data to easily copy and paste into other programs….
The keywords can help, after editing, with ads campaigns….
Going back to the software you find the longtail keywords and related niches boxes filled with the information on the web page.
So that is the massive amount of data returned on a single niche….
But are there any drawbacks….
What are the pros and cons
Pros
Quickly and easily gather data on entire niches
Able to 'niche down' using the keywords or micro niches
Covers any niche
Desktop application
Cons
Can be slow if you tick the expired domains ( you have been warned)
Not every niche returns lots of information
Not all the information is relevant to the niche selected
The installation is not 'signed' for windows 10…so you will need to authorize it…
Not available for MAC
There used to be a section on products that were at Aliexpress
Who is it for
Anyone who wants to dive quickly into any niche needs to jump onto this software.
Article marketers looking for a new niche, ecommerce looking for a new niche or expanding their existing niche…
With its low price and its easy to use interface there is no real learning curve…
You can quickly and easily find yourself a niche suitable for you…
Or be inspired by the random niche…
It can take a lot of the guess work out of seeing whether a niche is a viable option…
Extras
Well if you pick up niche laboratory pro at the moment then you get blog spy thrown in for free…
What's blog spy….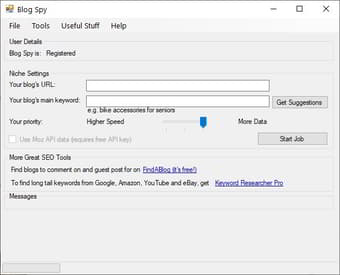 If you know which site is an authority in your niche then enter that into blog spy and click get suggestions….
Have a look at whether they are focused on your niche, if not then it is worth adding or changing to include your keywords….
Clicking on start job, allows the research software to start looking into your niche…
The result are again displayed in a web page…
You get a selection of related blogs showing information on the operating system, theme, social proof, monetization and if you link up a Moz account then the stats….
The little battery symbol next to the blog url shows the relevance to your keyword…
The fuller the battery the closer the relevance…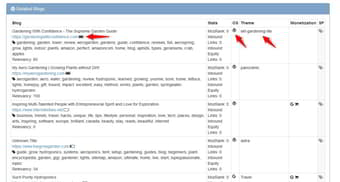 The relevancy score is out of 100…
And to give you loads of ideas about what they are writing about currently there is a panel of their latest blog post titles…
Under here is the SEO matrix allowing you to see how well other sites are optimizing their sites….
The last panel has a list of highly ranked sites…it may appear these should be the same as the blogs above, but not all of these are blogs so it is worth going through these seeing who is ranking…
So that is a summation of these two pieces of software capable of quickly and easily characterizing any niche you type in…
You may find that what you thought was a perfect niche turned out to be one you may not rank within a year with…but with a sub niche and you are ranking within months and your site is growing…
Personally using these two programs has helped me move the direction of one of my sites and made it more successful…
Recommended
Would i advise buying …yes….
I found it a fantastic research tool…
Even for general market research this tool will show you a snip of information on a market, giving you plenty of hidden opportunities today…
The only problem you may have is to stick with one niche…unless you setup a service finding niches for people…

Program : Niche Laboratory Pro
Owner : Brett b
Difficulty : very easy to use
Cost: low
Upsells: nope
Guarantee: 60 day money back guarantee
Affiliate Disclaimer: I get a small amount of compensation for anyone buying through my link at no extra expense for you.
Grab your copy of Niche Laboratory Pro and Blog Spy now
Phil has been working online since 2015 and working with computer for longer than he can remember..
He has successfully built a few sites that are ranking highly...
He is now experimenting with techniques to see how far google has gone with the ranking process, with an eye on the speed of the sites along with the web core vitals...
His philosophy is 'if you can control it then do'....
If you want Phil's help then please use the contact page to reach him...